If your child is invited to birthday parties this summer, he or she may encounter a bounce house. Portable bounce houses have become really common, as they can be delivered and set up quickly to provide a fun activity children enjoy. Unfortunately, portable bounce houses can also be really dangerous for kids, especially if they are not set up correctly or if there is a defect in the product which causes the bounce house to be less safe than it should be when it is inflated.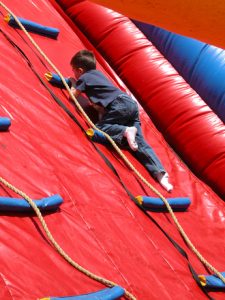 Parents need to understand the risks both of having portable bounce houses at children's parties they are hosting, as well as the risks of allowing their children to play in bounce houses at parties or events which are thrown by other friends or relatives or community groups.
While your child may be clamoring to play, you want to evaluate whether or not you think it is safe for you to allow your child to use the bounce house. If your child does get hurt, it is also important to know what your rights are for taking legal action. Boston product liability lawyers can help parents to determine who can be held accountable and what legal arguments to make when pursuing a claim for compensation based on a child sustaining injury in a bounce house.