If your child is invited to birthday parties this summer, he or she may encounter a bounce house. Portable bounce houses have become really common, as they can be delivered and set up quickly to provide a fun activity children enjoy. Unfortunately, portable bounce houses can also be really dangerous for kids, especially if they are not set up correctly or if there is a defect in the product which causes the bounce house to be less safe than it should be when it is inflated.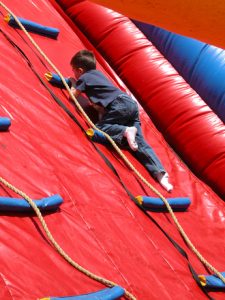 Parents need to understand the risks both of having portable bounce houses at children's parties they are hosting, as well as the risks of allowing their children to play in bounce houses at parties or events which are thrown by other friends or relatives or community groups.
While your child may be clamoring to play, you want to evaluate whether or not you think it is safe for you to allow your child to use the bounce house. If your child does get hurt, it is also important to know what your rights are for taking legal action. Boston product liability lawyers can help parents to determine who can be held accountable and what legal arguments to make when pursuing a claim for compensation based on a child sustaining injury in a bounce house.
Children and families should be compensated by manufacturers of bounce houses or negligent companies which fail to fulfill their legal duty to ensure the toys are safe for children. Premises liability claims might also be in order for the property owner or operator. Both economic and non-financial losses should be provided to children and families affected by bounce house injuries.
Children at Risk of Harm Due to Problems with Bounce Houses
Children have already been put at risk this year and have been hurt by problems with bounce houses. FOX News reported on one incident with a bounce house, which happened at an annual spring carnival being held at a local church. The bounce house had reportedly been anchored into the ground correctly, but a strong gust of wind ripped the anchors from the straps and the bounce house went airborne. There were five children hurt when the inflatable was lifted up by a gust of wind.
PBS also reported on the risks the bounce house presented. In just one year, 2012, for example, bounce houses caused children to suffer more than 18,800 injuries. This was a threefold increase compared with the number of kids who had been hurt six years prior. Close to nine of the 10 people hurt in bounce house accidents are under the age of 14. The majority of injuries impact the arms and legs, with around 66 percent of people hurting these body parts.
The face was also a common site of injury, with 15 percent of people hurt in a bounce house suffering a facial injury. Many of the injuries, like severe broken bones, require multiple costly surgeries to fix. Those who are responsible for unsafe bounce houses should be held accountable for the damage done to children and for the costs families incur in responding to injury.
If you are the victim of Massachusetts product liability, call Jeffrey Glassman Injury Lawyers for a free and confidential appointment — (617) 777-7777.
Additional Resources:
5 children injured after bounce house goes airborne at South Carolina carnival, April 9, 2017, FOX News
More Blog Entries:
New Total Knee Replacement Technology Helps Surgeons and Patients Alike, Nov. 25, 2015, Boston Hip Replacement Lawyer Blog