Many work injury situations exist wherein a workers' compensation attorney may seek to maximize a client's recovery from job-related injuries by examining whether we might apply a broader liability theory, such as product liability. We don't need to limit claims to the Massachusetts workers' compensation system because often, a dangerous product – such as a defective machine, tool or vehicle – is to blame. In many cases, we can keep the workers' compensation claim intact while also pursuing a product liability claim against the defective product manufacturer.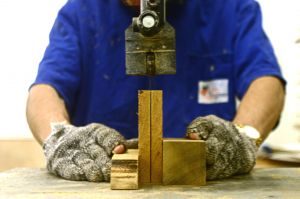 Third-party recovery may be initiated by either the worker or the workers' compensation insurer under MGL c. 152 section 15. (Insurers must wait at least seven months to initiate a claim, while the worker can file immediately.)
The product liability attorneys at Jeffrey Glassman Injury Lawyers have the resources and experience to pursue both workers' compensation and third-party liability claims, in particular those that stem from cases wherein product defects are responsible for on-the-job injuries. These can include cases of defective:
Industrial equipment
Dollies
Warehouse vehicles
Mobile warehouse storage-shelving units
Vehicles/ vehicle parts (tires, airbags, brakes, seat belts)
Forklifts
Scissor lifts
Ladders/ scaffolding
Cleaning equipment
Power tools
It's not necessary in these product liability claims to prove the defective machine solely caused the injury. In many cases, there is also a failure to maintain or inspect, which may be the fault of the employer (who will be protected from a personal injury or wrongful death claim by Massachusetts workers' compensation laws). However, if the product defect was even partially responsible, there may be a viable third-party product liability claim.
Theories of product liability in Massachusetts include:
Defective design. If the way the product is designed is unsafe, that means all products of that line are designed in such a way that they have the potential to cause injury.
Defective manufacturing. In this case, the defect of the product occurs in the manufacturing or assembly process, meaning it's not the way the product was designed, but some error that occurred in the manufacturing process that caused the machine you used to differ from the original design that made it unsafe. (An example might be a ladder with rivets that were not screwed in tightly enough, resulting in a failure to keep the ladder locked in place.) A defect in manufacturing can include materials or parts.
Marketing defects. This claim can be filed when the product is safe as used as intended, but the manufacturer/ distributor failed to provide adequate information about how to safely use the product, providing insufficient safety warnings, labeling or instructions.
Strict liability. In these cases, plaintiff must show the product was unreasonably dangerous and the manufacturer/ seller expected the product would reach the consumer without changes to the product and the product caused plaintiff's injury.
It's imperative that attorneys handling Boston workers' compensation claims not overlook the possibility of a product liability lawsuit because such injuries can have devastating and permanent effects on injured workers and their families, and the financial toll can leave families bankrupt or destitute.
The Massachusetts Coalition for Occupational Safety and Health (MassCOSH) and the Massachusetts AFL-CIO collaborate annually in producing a report (Dying for Work in Massachusetts) detailing the types of deadly threats that exist on job sites throughout the state. The report indicates that in 2016 (the latest year for which final numbers are available), 70 workers were fatally injured on-the-job in the Commonwealth – a record 10-year high in the state. Fatal injuries killed the majority (62) while the remaining were firefighters who succumbed to work-related disease. Further, there were 80,000 recorded incidents of non-fatal occupational injuries and illness, with 44,000 leading to workers having days taken away from work or requiring job transfers or restrictions.
Approximately 40 percent of workers fatally injured were employed in the construction sector. Other dangerous job sectors included retail trade, food delivery and support services (i.e., landscaping, temporary workers, etc.). As far as what is killing them, the report indicated the top causes were:
Transportation incidents;
Slips, trips and falls;
Contact with objects or equipment;
Exposure to harmful substances;
Violence.
A fair number of these cases involved working with some type of equipment or machinery, be it a tractor-trailer or a forklift or a power tool. Examining whether the machine or equipment was safe and worked as intended is a crucial step for any attorney taking on your case. This is especially true given recent cuts to the U.S. Department of Labor Budget, which in turn means the elimination of OSHA health and safety training programs devoted to young workers and those in low-wage and dangerous industries.
The good news is courts in Massachusetts have long favored the rights of injured workers. Take for example the 1994 case of Cosme v. Whitin Machine Works Inc., a product liability lawsuit weighed by the Massachusetts Supreme Judicial Court following a work-related injury. According to court records, the case involved a resident of Massachusetts injured at his place of employment in Connecticut, allegedly by a machine that was manufactured by a Massachusetts corporation with a principle place of business in Massachusetts. Plaintiff was injured while cleaning a full roller card machine manufactured by defendant. Plaintiff claimed the machine was defective and thus sought damages from the product manufacturer, in addition to the compensation he received from his workers' compensation insurer. He alleged his injuries were the result of defendant's negligent design and manufacture of the machine, as well as failure to warn of the dangerous condition of the machine and breach of express and implied warranties concerning the machine's function and safety. The question was whether the 10-year statute of repose applicable in Connecticut product injury cases should be applied to this case in Massachusetts.
The lower court granted defense motion for summary judgment, finding the Connecticut statute of repose should apply (meaning the claim can only be filed within 10 years of when the product was made). This meant the case was time-barred, as this particular machine had been manufactured some 50 years earlier. In reviewing the case, the Mass. Supreme Judicial Court noted firstly that Massachusetts has a "significant interest in seeking its resident plaintiff will be compensated, as well as that its resident defendant be held accountable for conduct which took place in Massachusetts and allegedly caused plaintiff's injury." The state high court ultimately held the fact that plaintiff's domicile and defendant's place of business were both in Massachusetts gave this state a more significant interest in the case. The lower court's ruling was overturned and the case was remanded for trial under applicable Massachusetts laws.
Not all work injury claims will lend themselves to product liability compensation, but if there is any chance that your injury was the result of defective equipment or machinery, it's important to raise the question with your attorney so that the possibility can be thoroughly explored.
If you are the victim of Massachusetts product liability, call Jeffrey Glassman Injury Lawyers for a free and confidential appointment — (617) 777-7777.
Additional Resources:
The Deaths that Come When an Industry is Left to Regulate Itself, Dec. 8, 2017, ProPublica
More Blog Entries:
Transvaginal Mesh Update: Boston Scientific Settles with 350 Plaintiffs, Feb. 11, 2018, Boston Product Liability Attorney Blog