Hernia mesh manufacturer Atrium Medical Corp. will face multi-district litigation (MDL) in a federal New Hampshire court, after a  judicial panel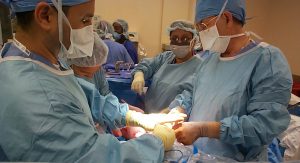 agreed to centralize all federally-filed claims against the company for its C-QUR product. More than a dozen claims are pending at this juncture.
Atrium's C-QUR hernia mesh was produced for use in reinforcing the abdominal wall as a permanent solution after hernia surgery. The company has said its unique Omega-3 coating lowers the risk of adhesions to internal organ tissue – which had been a major problem with other hernia mesh devices. However, plaintiffs in these pending lawsuits say the polypopylene patches were negligently designed and the company fraudulently convinced doctors the product was safe when executives and scientists with the firm knew it wasn't.
Specifically, plaintiffs allege the netting of the product is "biologically incompatible" to be used with human tissue. This resulted in an unreasonable risk of serious medical complications, including infections.  Continue reading