Hernia mesh manufacturer Atrium Medical Corp. will face multi-district litigation (MDL) in a federal New Hampshire court, after a  judicial panel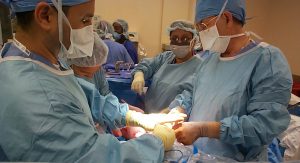 agreed to centralize all federally-filed claims against the company for its C-QUR product. More than a dozen claims are pending at this juncture.
Atrium's C-QUR hernia mesh was produced for use in reinforcing the abdominal wall as a permanent solution after hernia surgery. The company has said its unique Omega-3 coating lowers the risk of adhesions to internal organ tissue – which had been a major problem with other hernia mesh devices. However, plaintiffs in these pending lawsuits say the polypopylene patches were negligently designed and the company fraudulently convinced doctors the product was safe when executives and scientists with the firm knew it wasn't.
Specifically, plaintiffs allege the netting of the product is "biologically incompatible" to be used with human tissue. This resulted in an unreasonable risk of serious medical complications, including infections. 
One of the plaintiffs in the MDL is a 56-year-old diagnosed nearly four years ago with an umbilical hernia. This is the type that occurs at the belly button. (There five other main types of hernias, but those that occur in the abdomen are most common.)
According to Law360, plaintiff underwent surgical repair of that hernia soon after his diagnosis, and his surgeon implanted a C-QUR hernia mesh made by Atrium.
Months passed, and plaintiff didn't feel well. He continued to experience severe abdominal pain, but wasn't sure why. He figured it had to do with the surgery or the original hernia. However, it wasn't until 2015 that he learned the suspected cause: It was the C-Qur mesh.
His surgeon removed the mesh a month later, but he continues to feel pain. His doctors learned that the implant of this incompatible foreign product, caused his body to fight back hard, resulting in a huge cell reaction. There is now extensive scar tissue around where the implant once was.
Plaintiff alleges the company knew the product could cause this sort of reaction, yet failed to inform doctors of the risk and even went so far as to conceal design changes to the U.S. Food & Drug Administration.
The FDA in a 2015 consent decree banned Atrium from making the devices after a series of manufacturing site inspections revealed they were neither effective nor safe.
C-QUR products were not tested through the normal rigorous process typically required of medical devices. Instead, Atrium was able to bypass this process by asking the FDA for 510(k) approval. This process asserts the product in question is substantially similar to other products on the market. In the case of C-QUR, these devices were compared to a hernia mesh product that received approval back in the 1990s. This is despite the fact that C-QUR used a completely different type of coating than the original mesh product.
Our Boston C-QUR injury lawyers understand that no surgical procedure is going to be entirely without risk. However, the question is whether these risks posed by C-QUR products were unreasonable and foreseeable by the company that designed, manufactured and marketed them.
If you are the victim of Massachusetts product liability, call Jeffrey Glassman Injury Lawyers for a free and confidential appointment — (617) 777-7777.
Additional Resources:
Atrium Medical Accused Of Hiding Surgical Mesh Risks, Jan. 9, 2017, By Steven Trader, Law 360
More Blog Entries:
Report: Bill Would Give FDA Mandatory Recall Power Over Drugs, March 24, 2017, Hernia Mesh Injury Lawyer Blog