One of the major manufactures of artificial hip implants is a company that was simply known as DePuy for many years.  Now the company has merged to become DePuy Synthes, and is also now a wholly owned subsidy of the Johnson & Johnson company ,which has become one of the world's largest pharmaceutical and medical device manufactures. While many associate the company with making Band Aids and other consumer health care products, and they certainly do make those things, that is really only a very small part of the company's business.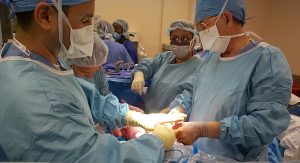 Artificial hip implant devices are big business. The companies that make them can charge a lot for the device and with more than 300,000 people getting hip implants in year in the U.S. alone, a figure that is still growing, there is no shortage of patients to purchase them. There is a lot of competition from other medical device giants such as the Stryker Corporation.
As our Boston hip replacement injury lawyers can explain, this competition has led to a race of sorts to get new devices on the market and  into the minds of orthopedic surgeons who will be choosing their device of choice. Unlike drugs that market directly to the public, which causes patients to ask their doctor for a specific drug rather the doctor making the recommendation, there is still not much direct marketing to patients with respect to artificial joints such as knees and hips and other durable medical equipment (DME).
While there have certainly been some major innovations that have helped patients, there have also been some defective and dangerous artificial hips put on the market.  One of these is the Pinnacle ASR hip by none other than DePuy.  This hip was designed to feature a metal on metal construction which was far different then cement and plastic models already on the market. The supposed advantage of this type of artificial hip implant device was that it would have less friction because the metal surface on one part of the joint would glide over the other metal components.
This may have worked in the most ideal conditions but the metal in the actual hips began to rub against itself creating friction rather than gliding smoothly as advertised. This resulted in shards of metal scraping off and that resulted in many different problems. In some cases, the joint would  get further destroyed and this would result in a painful knocking and could eventually lead to to a total device failure. These devices are not designed to last forever, but they are designed to last for 10 to 20 years depending on the model.  If a patient has had artificial hip implant for only a couple of years and is told he or she will need to have the artificial hip implant removed and another artificial hip implanted, there is a good chance patient had a defectively designed artificial hip and that could be the basis for a defective hip replacement lawsuit.
Boston Defective Hip Replacement Lawsuits
When filing a defective hip replacement lawsuit in Boston, plaintiff's experienced products liability attorney will likely want to file several negligence based claims.  The traditional elements of negligence are duty, breach, causation, and damages. There are variety of ways in which a defendant could own a duty of care towards plaintiff, but based upon the law in the Commonwealth, there is no question that a medical device company owes a duty of due care towards any patients who having the company's durable medical equipment devices implanted including an artificial hip implant.
Specifically, that duty is to act as a reasonable and prudent person (company) in designing and marketing the artificial implant so that it is not defective, and that any issues that do arise are disclosed to surgeons who may be using the implants and the U.S. Food and Drug Administration. This is the standard negligence cause of action that will likely be included in most cases.
In addition to the standard negligence claim, plaintiff's attorney will also likely include a claim for defective design and a claim for failure to warn of a known danger where the facts will justify the filing of those specific types of negligence claims.
Total device failure was not the only issue with the Pinnacle ASR hip, the metal shards would also leach into plaintiff's bloodstream and this could result in a serious type of blood poisoning known as metalosis.
According to a recent news article from Mobi Health News, DePuy Syntrhes has reached an exclusive agreement with a surgical software company called JointPoint to create a software platform to assist orthopedic surgeons in performing total hip implants. The goal is to help surgeons perform total hip implant surgery using the anterior approach.  The anterior approach is difficult in that it doesn't have the best line of sign compared with a posterior approach, but it allows the doctor to insert the implant without cutting ligaments and tendons.  This means there is much less pain and the patient will be up and walking with assistance in hours instead of weeks.
Call the Boston Jeffrey Glassman Injury Lawyers for a free and confidential appointment — (617) 777-7777.
Additional Resources:
Getting priced out of joint replacement, April 5, 2013, Advisory Board
More Blog Entries:
FDA Announces Testosterone Meds Must Carry Broader Warning, July 7, 2014, Boston Products Liability Lawyers Blog