There are many types of artificial hip implants on the market.  Many involve the use of a cement, composite, metal, or some combination of both.  One devices that proved particular troublesome due to design defects and failure to warn doctors and patients of known dangers was the Pinnacle ASR metal on metal hip implant manufactured by a company called DePuy.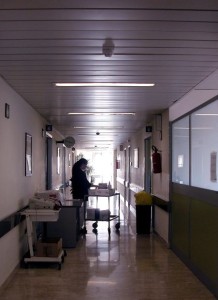 The metal on metal hip used both a metal ball and socket in the artificial joint.  The theory, according to company marketing material, is that metal on metal would be smother and have less friction than other designs.  This would mean that a patient could theoretically lead a much more active lifestyle since the hip joint would move more freely.
The problem, as our Boston artificial hip injury lawyers can explain, is that the metal on metal construction such as in the DePuy Pinnacle ASR hip led to all sorts of problems. There were cases where the metal rubbing against other metal services would create friction. The friction could then cause the device to be misaligned and this would to a great of pain and a possible total failure requiring a surgical removal of the artificial hip and the implantation of another hip joint.
These devices are supposed to last between 10 and 20 years or possibly longer. If you have had an artificial hip for only a few years and are told you need to have it replaced, you should speak with an experienced defective hip injury lawyer as soon as possible.  There are some cases where a perfectly working medical device, including an artificial hip can fail earlier than when it is supposed to, but these cases usually involve a problem during implantation, or if the patient has experienced some type of trauma to the joint like an impact or flexing it beyond the recommended range too early in the recovery process.
Another type of serious personal injury can occur when the small shards of metal from the defective metal on metal hip joint enter plaintiff's bloodstream.  One of these conditions that can result is known as metalosis that is generally considered a type of metal poisoning caused by the metal shards.  However, as discussed in a recent article from Wolters Kluwer Health, there a various type types of injury that can occur due to metal fibers in a defective metal on metal hip implant and they all can fall under the umbrella known as adverse reactions to metal debris (ARMD).
The article cites a recent study from the Journal of Joint Surgery, which found that patients with metal on metal hip implants are at a high risk of complications caused by adverse reactions to metal debris.
The study found that when the metal on metal hip implant complements slide over each other, the surfaces will wear resulting in metal debris  Patients had there blood tested for chromium and cobalt ions and those tests came back positive in many cases.   Once these metallic blood ions were found in patients' blood, researchers looked at the harm they were causing and also which artificial hip implants were giving off metal ions and if so, which were giving off more then others.  The goal is to develop a device specific guideline and to be able to better study the issue.
While the medical device companies that manufacture the artificial hip implants claim that their devices do not cause metalosis or any other type of adverse reactions to metal debris, but our experience with patients and medical researches show this is not the case.
Failing to warn of the dangers of metalosis and other adverse reactions to metal debris can be the basis can be the basis of filing products liability lawsuit.  In any negligence case, the basic negligence tort in the Commonwealth has the following four elements, duty breach, causation, and damages.  With respect to the first element, that duty is s duty to act a reasonable.
The duty element is a duty to act as a reasonable and project so as to prevent foreseeable injuries to foreseeable persons and property.  This duty can be established by law, inferred from conduct, or otherwise agreed to.  In the case of defective medical products, the company has a responsibility imposed by Food and Drug Administration (FDA) regulations.  There is no question that medical device company has duty to warn patients of known dangers and report those dangers to the FDA.
However, the companies often will either deny such a problem exists, try to downplay the risks associated with their products or claim they were unaware of the alleged defects.  The problem for these companies is that they not only have to disclose dangers they knew of, but also dangers they should have known about . This is to dissuade the companies from tying to avoid doing certain tests so they can claim they were unaware of the problem.  Purposely not knowing about a problem by not doing tests is known as willful blindness and this is not an excuse that should work in a Boston defective products liability case, because this is known as willful blindness.
In cases where there is an argument that a company should have known about a defect, but claims they didn't, a jury will be required to decide if that company acted in a reasonable and prudent company, and if that reasonable and prudent company would have known of the defect.  One way to determine this is if the company followed all required safety testing protocols and also acted according to well-established industry standards. This is an are where expert witnesses may be required as is common in many Boston products liability cases.  Some cases such as these will require the testimony of numerous expert witnesses.
Call the Boston Jeffrey Glassman Injury Lawyers for a free and confidential appointment — (617) 777-7777.
Additional Resources:
Lyles v. Medtronic, Inc., September 11, 2017, U.S. Court of Appeals for the Fifth Circuit
More Blog Entries:
FDA Announces Testosterone Meds Must Carry Broader Warning, July 7, 2014, Boston Products Liability Lawyers Blog