Robotic surgery nearly killed her. That's what plaintiff in Zarick v. Intuitive Surgical Inc. alleges in her $300 million product liability lawsuit. Although she survived, she suffered enormous physical pain and suffering and mental and emotional distress. She experienced the horror and agony of her intestines prolapsing through her vagina. She endured a life-threatening second surgery to repair the damage. Her internal injuries were significant, permanent and have all but annihilated her sexual relationship with her husband.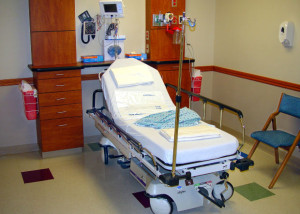 "It forever changed my life for the worse," she told a reporter in 2013, four years after she had undergone hysterectomy surgery with the assistance of the Da Vinci robotic surgical system.
Her case is the first of many pending against the robotic surgery manufacturer, Intuitive Surgical, Inc. The 44-year-old alleges she underwent the surgery to address bleeding caused by benign cysts. She said she was convinced by her doctor to undergo the procedure because it was minimally invasive and, she was told, one of the safest and most effective ways to treat her condition.
However, five weeks after the procedure, she was rushed to the emergency room with a life-threatening condition. In incredible pain and with few other options, she had to undergo a dangerous emergency surgery to repair damage to her internal organs.
Her attorneys contend that it was later revealed the electrified scissors used by the Da Vinci system weren't appropriately insulated. These scissors are used to cut and cauterize tissue, and because of this defect, plaintiff alleges, the electricity surged into surrounding tissue – including the bowels – causing significant damage.
She and her husband are now seeking $50 million in economic damages and $250 million for pain and suffering and emotional distress.
Intuitive, which dominates the robotic surgery field, is the only company in the U.S. whose machines are approved for soft tissue procedures, including prostate and gynecological operations. Each machine cost about $1.5 million. The company has argued it is not liable for plaintiff's injuries in this case because it's products are not defective and were not the cause of plaintiff's injuries. Instead, defense argues plaintiff is responsible for her own injuries because she engaged in sexual intercourse five weeks after the procedure, rather than waiting the six-to-eight weeks, as recommended by her surgeon.
Although many hospitals continue to insist these robotic surgery machines are safe, the U.S. Food & Drug Administration (FDA) reports an increase of adverse affects involving the machines since 2009. There were reportedly 11 deaths associated with these surgeries in 2009 and then 30 by 2012 – almost triple. The number of injuries increased even more – from 24 in 2009 to 115 in 2012. That doesn't necessarily mean the machines caused the deaths or injuries, but rather they were involved in procedures where that was the outcome.
A study conducted of data from 2014 indicated there had been 144 deaths and more than 1,000 injuries connected to these robots in the U.S. over a 14-year period.
In this case, plaintiff said she recognized there was a risk of complications, as with any procedure, but no one mentioned to her the possibility that her intestines could fall out. Other cases have involved more serious outcomes. For example, in New York, a 24-year-old woman underwent a procedure to remove her reproductive organs after she was diagnosed with early-stage cervical cancer. She was supposed to be out of the hospital the next day. However, she never left. She died from bowel damage that was "incompatible with life" – a complication from the surgery conducted with one of the Da Vinci robots. In addition to the product liability lawsuit filed in that case, plaintiff has also filed a medical malpractice lawsuit against the doctors for failing to quickly recognize the problem.
If you are the victim of Massachusetts product liability, call Jeffrey Glassman Injury Lawyers for a free and confidential appointment — (617) 777-7777.
Additional Resources:
$300M Trial Begins Over Intuitive's Allegedly Defective Robotic Surgical System, April 7, 2016, By David Siegl, CVN
More Blog Entries:
New "Aggressive Rehab" After Total Knee Replacement Surgery, March 21, 2016, Boston Defective Medical Device Lawyer Blog