Total hip replacement surgeries in the United States have increased by astonishing rates over the past decade. Medical device manufacturers have been heavily marketing new artificial hips to surgeons and patients as a way to get rid of the pain of arthritis and allow people to function as they did when they were years younger.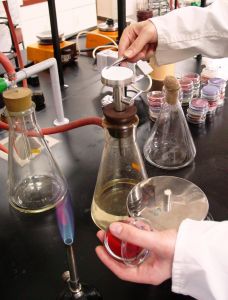 While many patients actually need a new hip, many may not. Additionally, regardless of the need for a total hip replacement, no patient needs to be victim to one of the numerous defective hips and surgical cutting guides that have hit the market. Victims have suffered extreme pain and suffering, partial or complete failures of their new artificial hips, and other serious health conditions related to a defectively designed medical device.
According to a recent news article from the Daily Mail, doctors in England are in clinical trials with a new technique they hope will one day lead to an end to total hip replacement surgery. This new technique uses an experimental product called Preob, which is called an osteoblastic (bone-forming) agent.

The procedure begins with obtaining bone marrow from a patient and harvesting stem cells. Stem cells have a unique ability to transform into different types of cells. The cells are sent to a laboratory, where they are transformed into bone-forming cells, and then injected through a patient's skin into the damaged hip joint. Researchers claim this will cause the damaged bone to regrow itself. This relatively non-invasive procedure is being compared to traditional procedures in clinical studies. As of now, the procedure is being tested on patients suffering from avascular necrosis (AVN), which is a degenerative bone disease of the hip.
This study will involve testing in the United Kingdom and 37 other hospitals across Europe and is expected to conclude in 2017. The drug is being developed by a Belgian biotechnology company called Bone Therapeutics. Much of the research involving use of stem cells, whether derived from bone marrow or other sources, is being conducted overseas due to legal restrictions on stem cell research in the United States.
One of the reasons for focusing on AVN patients is because the disease normally affects relatively younger patients between ages 30 and 50. Doctors prefer not to do a total hip replacement on patients this age because they will normally out live an artificial hip and will have to have a new device implanted later in life.
Hip replacement injury attorneys in Boston understand, while an artificial hip is supposed to last around 15 years, many defective devices were failing within a few years of being implanted. This was not only causing considerable pain, but also a need for addition hip replacement surgeries to correct or replace the defective hips. It is not unheard of for a patient to need upwards of six hip replacement surgeries, and still suffer from damage done.
If you are a victim of a defective hip replacement procedure in Massachusetts, it is helpful to obtain your complete medical record, including model of artificial hip used in your surgery, before contacting an attorney. The more information you can provide, the easier it will be to assist with your legal issue.

Call the Boston Jeffrey Glassman Injury Lawyers for a free and confidential appointment — (617) 777-7777.
More Blog Entries:
Acetaminophen Dangers Highlighted in Recent Reports, Feb. 5, 2014, Boston Product Liability Lawyer Blog