Defective artificial hip implants are a major problem in the U.S. and the issue is only becoming more exacerbated as million more Americans are seeking artificial hip surgery.  It has become one of the top surgical procedures in the U.S. with hundreds of thousands of artificial hips implanted each year. According to the U.S. Centers for Disease Control (CDC), in one recent year alone there were 310,000 artificial hips implanted. This number is expected to rise in years to come with more younger patients choosing to undergo the procedure so they can attempt to lead a more active life.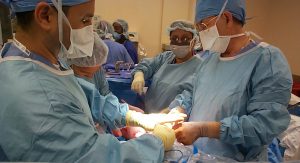 While none of these artificial hips will last forever, some are failing far sooner than promised, in some cases with serious or dangerous side effects. We have seen far too many cases where medical device manufacturers are rushing a product to market to make money when they knew or should have known the device was faulty. This is the reason for so many defective artificial hip implant lawsuits in Boston and across the nation each year.
Two of the more common defective hip implants involved the use of a metal-on-metal hip.  These two defective designs were manufactured by DePuy, which is now a division of Johnson & Johnson (J&J) Orthopedics and a company called Biomet, which is now a division of Zimmer.  As you can see these artificial hips are big business and as bigger and bigger companies are taking over all of the competition the problem will likely get worse. As with any other products, it is often competition that drives companies to make better and cheaper products, and that is the reason for federal anti-trust laws, but these companies have the pull and lobbying money to get their mergers through regulatory approval so there is not much that can be done on that front.
When they designed the metal-on-metal hips, which is a significant departure from how artificial joints were made before and are made today following well-publicized failure of the metal-on-metal joints, there were marketed as a new and exciting products that would allow patients to lead a more active lifestyle. The problem was metal-on-metal hips weren't made before because they are bad idea and the companies skipped necessary and required testing to push them though the regulatory process in the U.S. with the Food and Drug Administration (FDA) and the equivalent of the FDA in the European Union.
There are various reasons these metal-on-metal hips are defective. In some cases, the joint will become coated in protein, and unlike other hip implants, the protein coat will continue to build up affecting the shape of the ball causing it breakdown or move out of place. There have also been many cases of the broken shards of metal entering the patient's bloodstream causing a form of poisoning known as metalosis.
If you have experienced any of these problems, you should contact your doctor as quickly as possible and also speak with an experienced Boston defective hip implant injury lawyer to see if you have a valid claim against the manufacturer. It is important to understand these are products liability claims against the manufacturer and not a medical malpractice claim against your doctor.  Some of the claims that can be brought are for violating the implied warranties in the Uniform Commercial Code (U.C.C.) as adopted by our state and can be found in Chapter 106 of the Massachusetts General Laws (M.G.L).
The reason these products proved to be so popular is that younger patients are undergoing total hip implant operations more than in the past. One of the reasons has to do with a pension for exercising and running races such as marathons and other such activities. Marathons and triathlons are nothing new, and have been around for many years, but it has been more recent occurrence that so many people want to participate in these activities as anyone can see from friends on Facebook that seemingly post about these activities on a frequent basis.
While these activities, and the massive amount of training needed can certainly keep people "in shape," medical professionals are not so sure the human body was designed to do that much running so it can lead to osteoarthritis.  This leads to a breakdown of cartridge and the joints themselves and painful bone spurs that make running very difficult. Those who want to keep running must find a way to deal with these issues and many younger people are choosing to have total joint replacement operations.  This is not only true for hips but also for knees and we have also seen our fair share of defective knee implant cases including ones made by Zimmer and many other companies.
According to a recent news article from ABC News 6,  a new hip repair procedure may allow younger patients to still be able to lead a more active lifestyle without the need for a total hip replacement at such a relatively young age. When we say relatively young age, this is because in decades past, generally only elderly patients had a total hip replacement surgery.  There are of course exceptions to this such as when a patient suffered a catastrophic hip injury.
This new procedure, called a subchondroplasty, which was originally developed for use in knees, involves a bone-hardening material is injected into damaged areas of the hip joint and then shaped to match the joint in its undamaged state.  The material will then promote regrowth of the patient's natural bone and eventually the material that was injected will be replaced by natural bone. The initial relief is felt very quickly because the injected material services a temporary patch and then it is replaced by the natural bone over time. In addition to the new material doctors also inject platelet-rich plasma to promote natural healing of the joint.  Platelet-rich plasma or "PSP" as it is often called has been used for quite time some in athletes who suffer a joint injury and are hoping to get off the disabled list or injured reserve and back in the game before the end of the season.
Those who suffer as a result of faulty hip implants should contact an experienced hip implant injury attorney as soon as possible. You may be able to recover damages, including the cost of medical expenses, lost wages and more.
Call the Boston Jeffrey Glassman Injury Lawyers for a free and confidential appointment — (617) 777-7777.
Additional Resources:
New hip repair method helps younger patients avoid joint replacement, January 2, 2018, ABC News 6
More Blog Entries:
FDA Announces Testosterone Meds Must Carry Broader Warning, July 7, 2014, Boston Products Liability Lawyers Blog