While the WWE tried to hide this fact to an extent back when it was the WWF, these days, the vast majority of wrestling fans and the general public now know that wrestling is staged and the winners are predetermined. This is why it is classified as sports entertainment and not a true sporting event.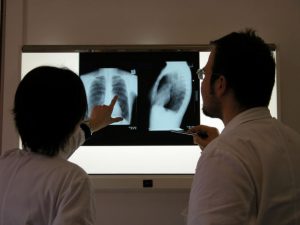 However, while the moves are designed in such as way so as not inflict actual pain, it is still very much possible to get injured while participating in a pro wrestling match.  Even if a wrestler does not suffer and acute injury, years in the ring can take its toll on the wrestler, and bone spurs and arthritis can cause a lot of pain and suffering.
According to a recent news article from the Inquisitr, WWE professional wrestler Mick Foley is taking some time away from Monday Night Raw to undergo a total hip replacement operation and to take the time he needs to fully recover from the operation. However, these days that does not take as long as it used to.  Many doctors are using robots to assist them during the surgery and even using 3D printing to make the artificial joint as precise as possible.  This is helpful, because the more precision used in making the fit, the smaller the incision needs to be, and that translates into a shorter recovery time.  However, as our Boston hip replacement injury attorneys can explain, it doesn't matter how precise the joint is fit and how well the surgeon performs the operation if the artificial hip implant device itself was defectively designed.
One model of hip implant that we have had considerable trouble with is known as the Pinnacle ASR and is manufactured by a company called DePuy.  DePuy, which was once its own company, is now a wholly owned subsidiary of Johnson & Johnson, which is one of the largest pharmaceutical companies and medical device manufacturers in the world.
The DePuy Pinnacle ASR hip device was designed with a metal-on-metal joint that was supposed to be smoother and allow a patient to lead a more active lifestyle. In reality, one in eight patients who had the hip implanted would suffer a complete device failure within the first five years following implantation.  This translated to a roughly 13 percent failure rate, which is far beyond what we expect to see for a properly designed artificial joint.
In addition the outright failure of the devices, we have also seen them coming loose, dislocating, and becoming misaligned.  We have also seen cases where the metal shavings from the defective hip implant would enter patient's blood stream, resulting in a type of poisoning known as metalosis.
As for Foley, it was first announced that the wrestler would be taking some time off from Monday Night Raw, but there was not any reason given for his absence.  However, since he first stepped away from the weekly event, more information came out related to his ongoing hip problems and the need for a total hip replacement operation.
If you are the victim of Massachusetts product liability, call Jeffrey Glassman Injury Lawyers for a free and confidential appointment — (617) 777-7777.
Additional Resources:
WWE News: Mick Foley Undergoing Hip Replacement Surgery, January 8, 2017, By Shawn Lealos, Inquisitr
More Blog Entries:
J&J Fires Back on Pelvic Mesh Marketing Lawsuit, July 15, 2016, Boston Product Liability Attorney Blog