The U.S. Food and Drug Administration this week issued an order to immediately halt the sale and distribution of pelvic mesh product for treatment of pelvic organ prolapse.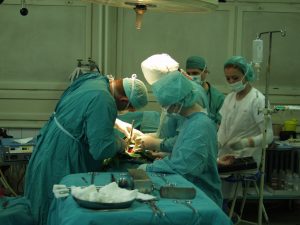 Boston Scientific and Coloplast are the only two companies in the U.S. still selling mesh to treat pelvic prolapse. The FDA order immediately prohibits the sale of Boston Scientific's Uphold Lite and Xenform mesh products, as well as Coloplast's Restorelle DirectFix.
Our medical device injury attorneys have been watching the issue closely as tens of thousands of women have been seriously injured by mesh implantation. Still, Boston Scientific and Coloplast have continued to market and sell the product 7 years after the FDA issued an emergency order mandating device makers prove their products are safer and more effective than traditional surgical repair.
Defective Surgical Mesh and Pelvic Organ Prolapse
While most consumers realize the U.S. healthcare system faces an affordability crisis, most believe the medical products and devices used by surgeons and hospitals have met rigorous safety standards. Unfortunately, that is rarely the case. Medical device manufacturers and pharmaceutical companies often skirt the requirements. Even when medical testing and clinical trials are performed, government regulators rely almost entirely on supporting data companies submit when seeking approval.
And the FDA, which is charged with approving devices for market, is also charged with pulling dangerous products from the market. Critics contend this inherent conflict of interest makes the government watchdog agency slow to act. In this case, more than 7 years passed from the time it issued a safety ultimatum until it forcibly pulled transvaginal mesh products from the market this week.
Both companies failed to provide "reasonable assurance of safety and effectiveness for these devices," the FDA stated in issuing the order. The agency reclassified transvaginal meah as a high-risk medical product in 2016 amid thousands of lawsuits from injured women. The government agency has come under increasing fire over the safety of implanted mesh, after approving a wide variety of the products for implantation into human patients decades sago.
The  2016 order required 33 manufacturers to conduct in-depth product safety studies of the type that should have been conducted before the products were ever allowed to be marketed to patients. In response, 31 companies stopped selling vaginal mesh products. This week's order forces the last two companies into compliance.
The reclassification requires manufacturers of  transvaginal mesh to treat pelvic organ prolapse to obtain premarket approval, which is the agency's most stringent review standard. Historically, mesh companies have relied upon approval of "substantially similar products," which required little or no human testing for new medical products that claim to be substantially similar to products already on the market.
The FDA ruled both Boston Scientific and Coloplast failed to demonstrate their transvaginal mesh products were superior to surgical repair of native tissue without the use of mesh. The agency says women who have had transvaginal mesh implanted should continue with routine checkups and follow-up care.
Doctors began implanting surgical mesh for abdominal repair in the 1970s and for pelvic organ prolapse in the 1990s. The first surgeries transvaginal mesh devices to repair pelvic organ prolapse occurred in 2002. By 2011, the FDA was forced to release its first safety warning after a "significant increase" in the number of women reporting pain, loss of sexual function and excessive bleeding.
About 1 in 8 woman has surgery to treat pelvic organ prolapse during her lifetime. Pelvic organ prolapse is a condition is which organs like the uterus or bladder sag into the vaginal area. The FDA order does not apply to mesh used to treat other conditions, including hernias or stress urinary incontinence, although implantation of mesh products to treat these conditions has not been without complication or complaint.
Transvaginal Mesh Medical Malpractice Lawsuits
Boston Scientific reports settling about 95 percent of its product liability lawsuits stemming from its transvaginal mesh products. But the company still faces some 18,000 lawsuits and has set aside more than $900 million for legal liabilities, according to Bloomberg News.
At the height of its use, vaginal mesh was manufactured and marketed by more than companies, including Johnson & Johnson, C.R. Bard and Endo International.
Our transvaginal mesh lawyers in Boston will carefully review the facts and circumstances of your case. While a medical malpractice lawsuit against a doctor or hospital could be warranted, these case most often involved dangerous or defective product claims against some of the world's largest medical device manufacturers. The companies view the cost of legal defense as a routine cost of doing business. Johnson & Jonson, for instance, faces more than 34,000 claims but continues to mount a defense on a case-by-case basis, rather than enter mass settlement negotiations.
The defective medical products team at Jeffrey Glassman Injury Lawyers has been at the forefront of transvaginal mesh litigation for years. We have written extensively about the risks, including medical complications and revision surgeries. You can view our Transvaginal Mesh FAQ section for more information.
Defective medical products claims may include allegations of defective design, defective manufacturer, or failure to warn. Choosing a law firm with extensive experienced litigating medical product liability claims will help ensure your attorneys have the knowledge, resources, and relationships with the outside legal and medical experts necessary to prevail against large corporate defendants and their insurance companies.
Issuing a recall or agreeing to halt the sales and marketing of a product does not relieve device makers of legal liability for harm caused by dangerous or defective medical products. Demanding compensation for damages, including pain and suffering, as well as the  cost of complications, revision surgery and extended medical care, not only provides victims with legal recourse, it is about the only thing holding these large medical device makers accountable for harming the public for profit.
If you are the victim of Massachusetts product liability, call Jeffrey Glassman Injury Lawyers for a free and confidential appointment — (617) 777-7777.
Additional Resources
FDA Halts Vaginal Mesh Sales; Boston Scientific Shares Fall, April 16, 2019, Bloomberg News Service