Football teams regularly release injury reports during the season and even during the offseason.  Normally these reports are for players, but the Chiefs recently included head coach Andy Reid on the injured reserve, as he was forced to miss the NFL combine after having a total knee replacement operation, according to a recent news feature from CBS Sports.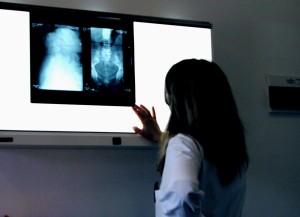 The NFL combine is the most important event of the offseason in terms of the upcoming draft of NCAA athletes. The combine involves a series of physical tests, medical evaluations, mental health evaluations, and player performance evaluations to determine what players a team should consider drafting and in which order.  There is very little reason why a head coach would want to miss the combine, but sometimes is is not possible to attend due to health issues.
This is the second straight offseason Reid has been sidelined due to a knee replacement, as he had his other knee replaced the previous year. In some cases, doctors are willing to perform what is known as bilateral knee replacement operation.  This is where doctors will replace both knees during a single operation.  In some cases, it will involve one orthopedic surgeon performing a total knee replacement on one leg and then doing the second leg once the first operation is complete. In other cases, there will two surgeons who will perform both operations at the same time.
It should be noted that a bilateral knee replacement surgery is becoming more popular but is still rather controversial.  One of the reasons for this is that it makes the rehabilitation phase take longer, and that means it will take longer for a patient to get out of bed and be up and moving around.  The longer a patient is immobile following a knee replacement, the greater the chance of having a serious medical condition known as deep vein thrombosis (DVT).  This is a condition were blood clots form deep in the veins of the legs and travel through the patient's body causing incredible damage and possibly death.
Regardless of the type of surgery a patient decides to have, there is not much chance things will go according to plan if the actual artificial knee device used in the operation was defectively designed. Our Boston knee replacement injury attorneys have seen in many cases that, when artificial knees, such as ones made by Stryker, are defectively designed, they are likely to fail within a short period of time after being implanted.  This can cause incredible pain and suffering and a need for a second or even third surgery.  This can lead to more medical bills, a second recovery process, and more time lost from work.  This means lost earnings, and this something about which you should speak with your attorney.
Another issue we have seen involves the use of defective cutting guides, such as the ones made by OtisMed for their OtisKnee.  This was particularly bad, because the FDA actually told the company not to ship them because they were not approved, but they did it anyway and ended up in federal prison.
If you are the victim of Massachusetts product liability, call Jeffrey Glassman Injury Lawyers for a free and confidential appointment — (617) 777-7777.
Additional Resources:
GLENN HUGHES Undergoes Dual Knee-Replacement Surgery, Reschedules U.S. Tour, February 12, 2016, Blabbermouth.net
More Blog Entries:
Chiefs' Andy Reid to skip NFL combine after knee replacement surgery, February 21 2016, CBS Sports, By Sean Wagner-McGrough