A man's $8 million damage award for a defective hip has survived an appeal before the 4th District Court of Appeal. The trial was the first of thousands of product liability claims filed over the ASR hip device.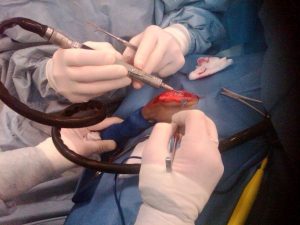 Plaintiff alleged that the device failed just 5 years after the surgery, despite promises that it was supposed to last most if not all the rest of his lifetime.
The case was Kransky v. DePuy, and expert witnesses, including a biomedical engineer, testified in the case that internal data from the company showed these hips started to deform and change shape in just one year's worth of walking in the human body. This high rate of deformity was known to those in the company, who ignored this reported "red flag." 
More rigorous testing should have been required before the products hit the market, experts testified.
"These (deformity rates) weren't just slightly higher (than the industry standard," said one witness. 'They were higher by a lot."
DePuy, which is a subsidiary of Johnson & Johnson, issued a voluntary recall in August 2010 following studies in Britain that revealed nearly 15 percent of its metal hips failed within just five years.
J&J faces some 11,000 lawsuits across the country filed over failure of these devices. That includes a multi-district litigation action pending in northern Ohio.
In the Kransky case, plaintiff's product liability lawsuit was filed in Los Angeles. He is a retired Montana prison guard who alleged the all-metal ball-and-socket hip replacement was defectively designed and thus started to break down after just a few years. This in turn resulted in metal poisoning, which led to a host of health issues.
Defendants countered that it wasn't the hip replacement that caused plaintiff's injuries. The defense pointed instead to plaintiff's history of decades-long cigarette smoking, diabetes and a heart attack in 2002.
Following a five-week trial, jurors awarded the 65-year-old plaintiff $8.3 million, finding plaintiff's injuries were caused by the defective hip implant. However, jurors declined to find the company failed to warn of the risks of the implant, and thus did not award punitive damages.
Plaintiff attorney said this is much bigger than a defective hip. Rather, he said, it's a "public health disaster." In fact, several jurors later said they had wanted to impose punitive damages because the company took so long to correct problems once they clearly become known. However, they could not reach a unanimous decision.
J&J is the global leader when it comes to sales of health care products and medical device implants. Legal analysts estimated resolution of these lawsuits could cost the company billions of dollars to resolve.
The company had appealed the Kransky verdict, specifically challenging a number of decisions made by the judge in the trial, including allowing certain expert witness testimony. The company also argued the damage award was excessive.
The appellate court disagreed, finding the trial court didn't abuse its discretion, the jury's verdict was supported by the evidence and the damage award for compensatory damages was not so grossly out of proportion so as to shock the conscious.
The company in May 2014 settled 8,000 pending cases with a $2.5 billion deal. However, several thousand more still remain.
If you are the victim of Massachusetts product liability, call Jeffrey Glassman Injury Lawyers for a free and confidential appointment — (617) 777-7777.
Additional Resources:
Plaintiff's $8m win in DePuy ASR hip trial survives Johnson & Johnson's appeal, July 22, 2016, By Brad Perriello, MassDevice.com
More Blog Entries:
New Study on Outcomes of Different Hip Replacement Procedures, July 20, 2016, Boston DePuy Hip Lawyer Blog