Transvaginal mesh caused thousands of women to experience serious complications after the surgical mesh was implanted in procedures designed to treat stress urinary incontinence (SUI) and pelvic organ prolapse (POP). As many plaintiffs filed lawsuits against transvaginal mesh manufacturers, cases were consolidated into multi-district litigations.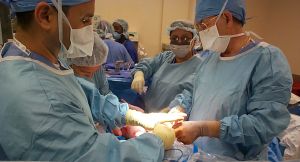 Our Boston transvaginal mesh lawyers know that these multi-district litigations allow for a single judge to rule on issues that are relevant to all TVM cases, so that claims can move through the courts more quickly and plaintiffs won't have to wait as long to get their cases resolved.
In addition to allowing one judge to make decisions on common issues in cases, multidistrict litigations also provide another benefit. Bellwether trials can be scheduled and can allow for plaintiffs and defendants to get a better idea of the strength of their respective cases so that there is a better chance of an out-of-court settlement being reached. The bellwether trials in transvaginal mesh cases have been moving forward, and the next case against C.R. Bard has been scheduled.

Bellwether Trial Scheduled in Transvaginal Mesh Case
In a multi-district litigation, each individual plaintiff continues to have a separate claim against the pharmaceutical company or medical device manufacturer, unlike in a class action where the claims of many thousands of plaintiffs are all grouped into one big lawsuit. As part of the multidistrict litigation, representative cases can be chosen to move forward. It is these cases that are referred to as bellwether trials.
A total of four bellwether transvaginal mesh trials were planned for the mesh manufacturer, C.R. Bard. Three of those cases have already occurred, and the fourth has now been scheduled to begin on December 3. The case is Jones vs. C.R. Bard, Inc. and the trial will be going forward in the U.S. District Court for the Southern District of Virginia. It is the last of the scheduled bellwether trials that are part of the first round of litigation.
The three previous bellwether cases have provided good news to plaintiffs experiencing vaginal mesh complications, as two of the three cases ended with the plaintiff receiving some compensation. The first of the bellwether trials, in August of 2013, resulted in the plaintiff being awarded around $2 million in damages by a jury. The second case was resolved through an out-of-court settlement for an undisclosed sum of money. The fourth case will soon be decided after both plaintiff and defendant have the opportunity to present their evidence to a jury.
Plaintiffs in transvaginal mesh cases have largely had similar complaints, as the mesh has been routinely linked to side effects including recurrent pelvic organ prolapse; pain during sex; pain when urinating; perforation of the bladder, bowels or blood vessels; bleeding; infection; vaginal shortening or tightening; and mesh erosion through the walls of the vagina.
The bellwether cases were specifically chosen to be representative of the bulk of the claims involving TVM side effects and the positive results for plaintiffs mean that C.R. Bard, Inc. may be more willing to make fair settlement offers to other injured women who deserve compensation for TVM complications.
If you suffered because of a defective medical device in Massachusetts, call Jeffrey Glassman Injury Lawyers for a free and confidential appointment — (617) 777-7777.

Transvaginal Mesh Cases Move Forward After Ruling on Expert Witness, Boston Products Liability Lawyer Blog, November 9, 2013