A Texas woman was awarded nearly $16 million against a Rhode Island company after she became quadriplegic after a utility vehicle ran her over while she was working on her family's farm.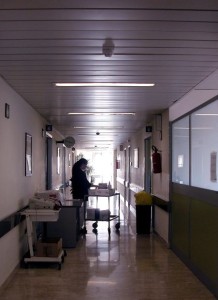 The $15.8 million verdict is reportedly the highest personal injury damage award doled out in the federal U.S. Western District of Texas, though plaintiff will reportedly only receive about half of that due to a finding of 50 percent contributory negligence. Based on Texas' modified comparative fault with a 51 percent bar (the same standard used in Massachusetts), that was almost enough to prohibit collection of any damages at all.
According to court records in Nestor v. Textron, Inc., the accident involved a vehicle called the E-Z-Go Workhorse cart. It looks something like a golf cart, but it's designed to haul material. It was December 2011 and plaintiff was working alone on the ranch, using the vehicle to help her with feeding and moving livestock around the property. Plaintiff alleges that she stopped at a gate to open it. She took her foot off the accelerator, which stopped the engine. However, as she was opening the gate with her back to the vehicle, one of the cubes of cattle feed fell onto the acceleration pedal. The engine started. The vehicle thrust forward. The force knocked her to the ground and the vehicle ran her over. As a result, she is now paralyzed from the neck down. 
Plaintiff alleged design and marketing defects, negligence, gross negligence, breach of warranty and duty to recall. She asserted the company was well aware of this defect that caused the vehicle to potentially accelerate with no one behind the wheel. In fact, they had discovered it before the vehicle went into production and they had even designed a potentially cheaper model that would fix the problem. However, they did not implement it.
Just 10 days after this incident, another accident involving this same piece of equipment was televised on a national broadcast at a football stadium in Dallas. A riderless, rogue Workhorse plowed into a group of coaches and sports reporters standing mid-field after a high school championship game. The video went viral.
However, the court restricted plaintiff's evidence that there were 31 actual and 1,645 estimated patients treated in hospital emergency rooms for golf cart-related injuries that occurred due to unintended acceleration issues. The federal judge ruled there was insufficient evidence these vehicle defect incidents were substantially similar to the Nester case, and that evidence was not allowed. Only one other case, involving a victim who fell on the accelerator pedal while entering a golf/ utility cart, was allowed to be entered into evidence.
Plaintiff attorneys stated the company proved the company could have made the product safer (and cheaper) and yet they did not do so.
Still, jurors found plaintiff shared some of the blame. In Texas, Tex. Civ. Prac. & Rem. Cod Ann. 33.001-33.017 holds plaintiff damages may be reduced by his or her portion of fault, but may be barred from any recovery if portion of fault is higher than 50 percent. Similarly in Massachusetts, M.G.L.A. 321 section 85 states plaintiff may not recover damages if he or she is more at-fault than defendants. Otherwise, plaintiff negligence will reduce defendant's liability proportionately.
If you are the victim of Massachusetts product liability, call Jeffrey Glassman Injury Lawyers for a free and confidential appointment — (617) 777-7777.
Additional Resources:
Buda woman wins record lawsuit in accident that left her paralyzed, April 5, 2016, By Will Anderson, Austin Business Journal
More Blog Entries:
Hip Replacement Surgery for Younger Americans, April 8, 2016, Boston Product Liability Lawyer Blog