The United States Food and Drug Administration (FDA) is not only charged with the task of regulating pharmaceutical drugs, but also medical devices.  Medical devices can include anything from a tool used by a surgeon, to an artificial knee, to a hybrid implant that slowly releases a medicine over time as a broken leg heals. While there is a lot of regulation of medical devices by the FDA, the regulations allow the medical device manufacturers a bit more leeway than they do in the case of drugs.  There are also certain loopholes in medical device regulation, such as the one that allows a medical device on the market with less testing and data if there is already a similar device on the market.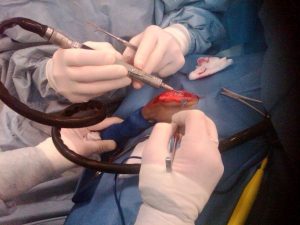 For this reason, the FDA will conduct follow-up investigations in hospitals around the nation to see if these devices are working as planned. This should be easy for them to do since the hospitals are required to promptly report any injury or death that involved a medical device. However, according to a recent news report form Kaiser Health News, the FDA has just found that Massachusetts General Hospital (MGH) in downtown Boston, as well as 11 other hospitals, have failed to promptly make these reports to the FDA and the medical device makers, as required by federal regulations.    The FDA has been publicly blamed for not being able to make sure these medical devices are safe and to find out which ones are dangerous to patients.  However, the FDA has been countering that argument by saying that they depend on hospitals, doctors, and medical device companies to report any problems, and according to their recent findings, this is not happening.
Federal law requires a hospital to report any serious injury that could possibly have been caused within 10 days of the injury occurring.  The hospital must report to the FDA and the medical device manufacturer, and if the company learns that their device was responsible for a serious injury or death, they are supposed to tell the FDA also within one month.  This is not happening at these 12 hospitals, according to FDA allegations that that is the problem.
As our Boston defective medical device injury attorneys have seen in many cases, companies have been willing to hide dangerous defects in their medical products so as not open themselves to liability or to face a drop in sales.  They also do want the FDA to revoke their approval to sell their respective devices.  In other words, the companies are putting their profits above the safety and welfare of patients, and that cannot not be allowed to happen.
However, it should be noted that MGH issued a statement saying they take their reporting requirements very seriously and work to comply with all requirements in a timely manner.  According to the FDA, they delayed reporting patient deaths for up to a year and half.  The hospitals are also saying that it is difficult to know if the device played a role in the death, but the FDA counters by saying that even if it is a possibility, they are supposed to report.
If you are the victim of Massachusetts product liability, call Jeffrey Glassman Injury Lawyers for a free and confidential appointment — (617) 777-7777.
Additional Resources:
FDA Faults 12 Hospitals For Failing To Disclose Injuries, Deaths Linked To Medical Devices, October 28, 2016, By Chad Terhune, KHN
More Blog Entries:
J&J Fires Back on Pelvic Mesh Marketing Lawsuit, July 15, 2016, Boston Product Liability Attorney Blog