"Low T" clinics are popping up all across the nation to provide a quick and convenient place to get a testosterone replacement therapy (TRT) injection. Interestingly, the vast increase of Low-T clinics and the amount of TRT drugs being administered is not due to the very low rates of hypogonadism, which is the rare disorder TRT is approved to treat.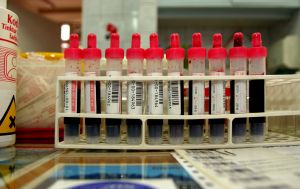 According to a recent news feature from Worldcrunch, one TRT patient interviewed said, at age 25, he went to his doctor and had a blood test. His doctor told him that his testosterone level was in the bottom five percent for a man of his age but refused prescribe TRT treatment.
A few years later, he was talking to a friend who told him how testosterone injections had changed his life. Armed with this new knowledge, he went to a Low-T clinic that recommended TRT. He goes to the clinic every two months and self-injects every ten days. He pays about $300 a month for TRT.

After three years of taking TRT drugs, he is proud of his larger muscles, the fact that he weighs 315 pounds and can lift two times his body weight at the gym. He is training to be a strong man competitor.
As the article notes, he is one of over 2 million men who took TRT drugs this past year. That is a 400 percent increase in the number of men around his age taking TRT drugs. Decreased testosterone is a normally occurring condition for men as they get older, but hypogonadism still remains rare. This is why Low-T clinics don't ask if patients have hypogonadism or test for the condition; instead, they ask if men are tired, have a low sex drive, are overweight, or unhappy. If you have these symptoms, you can walk out with TRT treatment.
As our Boston testosterone replacement attorneys can explain, TRT has questionable benefits and is not without significant risks. The medical community is concerned that patients on TRT are at an increased risk for heart attacks and other serious cardiovascular disorders and possibly have an increased risk of developing prostate cancer.
Doctors also question whether there are any real benefits to taking TRT drugs. It is easy to do a blood test to determine what a patient's testosterone, or T-Level, is, but what does that mean?
Even if a patient has a testosterone level at the low end of the spectrum, there have been no accepted studies that show what that means to patients. There is no scientific evidence that having a Low-T level is any worse than having a higher testosterone level.
The marketing arm of the drug companies have to decided to make normal male aging into a set of symptoms for having Low-T, and clinics have arrived to provide these men with a potentially fatal hormone therapy with very few questions asked.
Before being marketed as a wonder drug to treat male aging, testosterone injections were initially used to treat rare and serious conditions such as ablation of the testicles.
Call the Boston Jeffrey Glassman Injury Lawyers for a free and confidential appointment — (617) 777-7777.

Additional Resources:
Testosterone Nation: Male Hormone Therapy Explodes In U.S., October 25, 2014, Worldcrunch
More Blog Entries:
FDA Announces Testosterone Meds Must Carry Broader Warning, July 7, 2014, Boston Products Liability Lawyers Blog